A Guide to Love, God, Prayer, Meditation, & Peace Within You—Right Now
Get Inspired
Books
DVD/CD Courses
Get Involved
The Voice for Love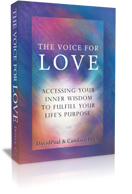 Accessing Your Inner Voice
To Fulfill Your Life's Purpose
Learn how to hear God's Voice in clear and recognizable ways in your life. Over three dozen practical and unique methods shared in the book.
(Paperback 315 pages)
Customers Who Bought This Item Also Bought
Product Description
Candace Doyle and DavidPaul Doyle have decades of experience hearing and sharing God's Voice within them. Over the past 20 years, they've taught thousands of people around the world how to hear this loving Voice within them in exactly the same way. In their groundbreaking book, The Voice for Love, they pose over 100 questions to God about how you too can clearly hear His Voice within you as a distinct & conversational voice. They recorded all the answers they received and share them with you in this incredible book.
"I've shared with our church congregation that this is the best book I have read on HOW to be in communication with God. I couldn't put the book down because it was so easy to understand and such joyful reading. Not only did I receive communication within, but the concepts are the way to live a joyous life. I will be practicing daily to be in dialogue with Spirit. Thank you for helping me to discover my Divine Voice!" Rev. Susan EngPoole, Louisville, KY
"Thank you so much for your breath-taking and marvelous book of love! It arrived today in the late afternoon. Now it is after midnight and I haven't stopped reading it!" Claudia Vermeulen, Netherlands
In the book, Holy Spirit shares how Jesus came to hear and use this Voice in his life. It shares 10 different meditation exercises for quieting the mind, 12 unique exercises for hearing God's Voice within, and a step-by-step formula for using this Voice within you to discover and fulfill your unique purpose in the world. In addition, DavidPaul and Candace share for the first time the personal techniques they've been using for the past 14 years to clearly hear this Voice within them.
Because the messages in The Voice for Love book were delivered by the same Voice for Love within you, the words in this book will penetrate your heart and mind in a very deep and impacting way. The unconditionally loving words from Spirit will resonate within you to open your heart and help you actively hear these words within you as you're reading them in the book.
"Fantastic book ... when I read the words in this book I feel like I'm being guided deeper and deeper into myself in a very comfortable way. It answers questions I didn't know I even had! When I read it, I feel very calm and secure. Just holding the book in my hand gives me a feeling of power and wisdom. Thank you!" Dennis Holmberg, Norway
"I have not yet finished the book. There is so much richness in each page that I want to savor the experience so I am going through it at a slow pace. The information contained within it is truly transformational and liberating. It is written in such a loving and supportive way with such a positive can-do attitude that success is the only option. I look forward to continuing my journey of discovery as I wind my way through each and every page." Linda McCabe, Canada
What You'll Get
The Voice for Love will give you a deeper understanding and experience of ...
Who and What God's voice is
How to use prayer to hear God's Voice more clearly in your life
The difference between your Higher Self and God's Voice within you
Your True Nature and Oneness with God
How to release the barriers that keep you from accessing this Inner Wisdom
How to effectively heal your most painful emotions
The evolution of Truth
How to clearly hear God's Voice in dozens of different ways
How to identify your unique purpose in the world
And much more
If you're looking for an inspirational book to help open your heart and experience more peace and love in your life, look no further than The Voice for Love. If you read the entire book and practice all the exercises within it and your life is NOT impacted in a significant way, we will refund 100% of the purchase price of the book. That's how confident we are that the teachings in The Voice for Love will penetrate your heart and mind in life-changing ways!
What Others Are Saying
"I had my first Kundalini and Siddhi experience while reading the pages of The Voice for Love book. As a scientist, educator, and healer, I give high regards to physical and demonstrable evidences. I feel that this book is a profound work of spirituality." Alex E. Etemad, MD Anaheim, CA
"I purchased your book several weeks ago. It arrived in the mail. I unwrapped it, looked at it, and thought, "Why did I ever buy this?" It sat on the bookshelf and sat on the bookshelf, until one day, I picked it up and could not put it down. It's incredible! Thank You. Thank You. Thank You!" Wanda Anderson, Salem, WA
"At a time when many of the 'spiritual' books coming forth are really spiritual fantasy and fiction, The Voice for Love arrives as a true educative manual for the student devoted to hearing the Voice of God within. DavidPaul and Candace are emerging as two of the best educators in the spiritual community." Diane Youngs, Director of the Shanti Christo Foundation, Publisher of The Way of Mastery
"The Voice for Love has become my inspiration, comforter, and goal ... my inspiration for counseling sessions with others, my comforter when I doubt and judge myself, and my daily goal in print. I have one copy in the kitchen and one in the car to be with me everywhere I go!" Rita Hoegel, NSW, Australia
"For anyone wishing to hear or strengthen their connection with that still small voice within, this book is a "MUST READ." DavidPaul and Candace expertly and lovingly coach the reader inward to their own endless font of knowledge and guidance. It is a beautiful, kind, gentle, and very wise book. Just the reading of it brought me to such a quiet and peaceful place." Audrey Lloyd, Port Orange, Florida
"I thoroughly enjoyed The Voice for Love. It is a delightful book that not only illuminates Truth, but does so with a rare simplicity and ease. An excellent guide on the journey of the soul." Jayem, scribe for The Way of Mastery
"For many of us, a direct communication to God through the Holy Spirit is improbable. We think too small of ourselves. We are fearful; or we are doubting, but needy. This book not only convinces us that it is possible, but that this communication is inevitable. If you are an occasional underliner of adages and pithy truths, get two pencils out because you will want to underline most of the book. It is that insightful and practical— truly transformative." John Fletcher, Bratenahl, OH
"This book inspired me to connect with that Voice I knew was waiting to be invited. Using the practical exercises contained here, I heard that clear, loving voice and life has not been the same since!" Rachael Groover, Dir of Education, Neale Donald Walsh's Conversations with God Foundation
"The Voice for Love is a beautiful, uplifting, soul-enriching journey that you must be sure to take.  Investing in this book may be the most beneficial thing you do in your entire life." Peggy McColl, Author of Your Destiny Switch
"This book is a tremendously important spiritual work! It precipitated a long-sought awakening for me." Rev. Jack Poole, Unity of Louisville, KT
"Since learning to hear the Voice for Love, which I have come to call the Divine Spirit, I have discovered an exta-ordinary happiness within myself. I spend time every morning before work, and throughout the day, connecing, sometimes conversing, sometimes listening, sometimes just being. Amazing, amazing joy and peace! Thank you from the bottom of my heart!" Karen Lucas, United Kingdom
"Some of the concepts tackled so brilliantly in this book can be made to seem very complicated to us. Our egos assure us that to 'get it' will be a long and arduous task. The Voice for Love book in straight forward language spells out a gentle path to helping us realize who we really are. The highlights brought out at the end of each chapter drive home the important message this book delivers." Jack Barney, Eugene, OR
"I had been praying to be able to hear the Holy Spirit clearly within me so I could be guided in my daily life. This book is the answer to that prayer. It is a simply written but profound book that is very practical. There are numerous exercises one can do to learn how to hear God's Voice and they work! As it turns out, the Holy Spirit is not some abstract idea. He is actually there as my own personal guide. Learning to hear this Voice has transformed my life!" Annika Jisvall, Tucson, AZ
"Filled with Truth and inspiration throughout, this wonderful book brings insight and clarity to hearing God's Voice within!" James Twyman, Peace Troubadour and author of Emissary of Light
"This book empowers each of us to receive the gift of the Voice for God in our own way. It's an easy, delightful, and truly inspiring read. I recommend it highly!" Rev. Jill Sabin Carel, Agape Interfaith Ministries
"I wholeheartedly recommend this book to anyone seeking to access the Inner Voice of wisdom that we all share. Its guidance is offered through exercises, dialogue, and personal stories of the authors with warmth, humility, and clarity." Dennis Gaither, Mt. Vernon, WA
"Your book has finally allowed me to understand that the answer is not out there at all but within myself. Your words (through the Holy Spirit) have taken me to the place of peace which I have been seeking for so long. I have at last been able to let go of all my spiritual striving, realising for the first time that not only was my spiritual striving a crutch, but a way of marking time until what I perceived as the finding of God occurred. The extraordinary thing has been to finally understand that I am already where I was seeking to be and all that needs to be done now is to allow God to embrace me." Sandra Munro, NSW, Australia
"Ah...the book. I LOVE it! I am reading it a second time. THANK YOU SOOOOOO much for this! It was just what I have been longing for!" Debra Harrison, West Linn, OR
30-Day Money Back Guarantee
If you read or listen to any of our books or audio/video products, practice all of the exercises, and your life is NOT impacted in a significant way, contact The Voice for Love at 541-488-0426 within 30 days to request a
Full Product Refund
.
FREE Shipping

on all orders over $75.00
We Gladly Accept



Secure Shopping Cart!