A Guide to Love, God, Prayer, Meditation, & Peace Within You—Right Now
Get Inspired
Books
DVD/CD Courses
Get Involved
Become a Member of The Voice for Love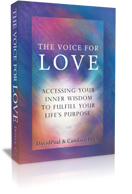 "Keeping Connected" Monthly Membership Program
Gain INSTANT ACCESS to over 300+ online audio recordings, CDs, programs, and resources when you sign-up as a Monthly Member of The Voice for Love.
Description
How would you like to gain immediate access to hundreds of audio recordings, CD programs, and resources that you can download to your computer right now?
When you sign-up as a Member of the Voice for Love, you will gain full access to the following resources that you can immediately listen to online or download to your computer.
| | | |
| --- | --- | --- |
| How to hear God's Voice in a clear and recognizable way. Over three dozen practIsical and unique methods shared in the book. | Learn a simple, effective 5-step process for hearing God's Voice as a clear and recognizable voice within you. Your life will never be the same. | Experience how simple it can be to lower your stress, quiet your mind, and have more peace & love in your life. |
In addition to all of these resources, you will also be able to download and listen to hundreds of audio recordings from DavidPaul, Candace, and the Holy Spirit on dozens of different topics, including:
Relationship
Spirituality
Mind
Health
Addiction
Hearing God's Voice
And many others
You will also receive new audio meditations and tips each week in your e-mail inbox for ongoing inspiration, learning, and support, and new 1-2 our private session recordings what the Holy Spirit each month.
The meditations and tips come directly from DavidPaul and Candace Doyle's 40 Tips for Hearing God 4-CD Set and Meditations with God 6-CD Set! The private session recordings are provided exclusively for Members and are available nowhere else.
| | | |
| --- | --- | --- |
| How to hear God's Voice in a clear and recognizable way. Over three dozen practIsical and unique methods shared in the book. | Allow the gentle and loving words of Spirit to guide your awareness ever deeper into a direct experience of your Divine Self. | These 40 tips for receiving divine guidance and communication from God will help you put all the pieces together. |
As a Member of The Voice for Love, you are invited to join DavidPaul, Candace, and all the other members each month for LIVE member-only conference calls. You will have the opportunity to ask questions on any topic you want, listen to the questions and answers other people receive, and connect with like-minded people seeking to hear God's Voice in their lives.
You will also have the opportunity to actively practice hearing God's Voice with DavidPaul and Candace's personal instruction and support on every call. These monthly conference calls are a great way to deepen your understanding and experience of hearing God's Voice in a supportive and safe group environment. In case you miss one of the calls, each call is recorded so you can download any past calls from the Member-only website anytime you wish.
DavidPaul and Candace Doyle have gone all out to give their Members all the resources and support they need to deepen their experience of communication and union with God. For $19.95 per month, we believe The Voice for Love Membership Program is the most comprehensive, effective, and valuable program anywhere on the Internet for learning how to hear God's Voice within you as a clear and recognizable voice, as well as deepening your experience of Oneness with God.
There are no long-term obligations when you become a Member. You can cancel your Membership at any time by simply contacting us by phone or e-mail. You will receive a free copy of The Voice for Love book in the mail after signing up and you will gain immediate online access to all of the audio resources listed above.
If you haven't watched the Video Guided Tour above, it will walk you through the entire Member website so you can see exactly what you'll have access to within seconds of signing up!
30-Day Money Back Guarantee
If you read or listen to any of our books or audio/video products, practice all of the exercises, and your life is NOT impacted in a significant way, contact The Voice for Love at 541-488-0426 within 30 days to request a
Full Product Refund
.
FREE Shipping

on all orders over $75.00
We Gladly Accept



Secure Shopping Cart!