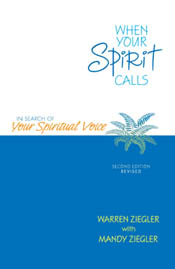 There is a new book coming out today called When Your Spirit Calls – In Search of Your Spiritual Voice by Warren Ziegler with Mandy Ziegler. From his 30 years of spiritual work, Warren Ziegler has identified nine fundamental spiritual archetypes. These nine archetypes are the Reflective Spirit, the Poetic Spirit, the Enlivening Spirit, the Organizational Spirit, the Just Spirit, the Mending Spirit, the Loving and Caring Spirit, the Sustaining Spirit, and the Entrepreneurial Spirit.
Using these archetypes, Warren and Mandy guide the reader through a series of thought-provoking questions and techniques for discovering who you truly are and what you are meant to do in your life, your work, and your relationships.
As part of the book launch, Warren and Mandy are also giving away a bunch of wonderful bonus gifts to anyone who purchases the book through their special webpage below. Their list of bonus gifts is pretty impressive. For more information about the book and the impressive list of free bonus gifts, please visit their special webpage below. Unlike some book launches, they're only offering these bonus gifts for one day only, so I encourage you to check it out today.