I hope your 2012 is starting off in all the ways you had hoped! New Year's Eve was a sweet night for our little family of three … Candace, myself, and our 11-year-old daughter, Hannah. We had a nice candlelit dinner at home, went to the theater and saw the animated movie TinTin, indulged at our favorite ice cream parlor afterwards, and then attended a really special New Year's Eve Labyrinth walk here in our town, capping off our intimate day with sacredness and reflection. It was a great way to bring in the new year!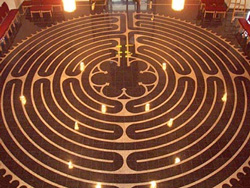 I have a feeling that 2012 is going to be a fantastic year for all of us, filled with growth, transformation, miracles, and a lot of personal and spiritual fulfillment. For the next 6 weeks, Candace and I and the rest of our Voice for Love Staff will be putting together the next iteration of our one-year certification program, tentatively scheduled to begin in March. I won't go into any details now, but I wanted you to know it's coming soon so you can prepare yourself mentally, emotionally, and spiritually for a year of transformation and making an impact in the world. We'll keep you posted as we get closer to unveiling the program.
For now, I'd love to share a beautiful message with you from the Holy Spirit, shared by Mary Ann (Mimi) Ruth, one of our recent graduates. The message is entitled, "A New Year's Resolution from Holy Spirit." It starts out like this, "With a new year come new resolutions to change and better ourselves. Yet we more often fall short of those resolutions than fulfill them. So I asked Holy Spirit, how can I love myself when I'm not meeting any of my expectations? Here is the message I received….
Click Here to read the message now.
I also want to let you know about the radio show I'm having next week with Jean Adrienne of the Awakening Zone.
Jean's show is called InnerSpeak Soul Adventures. I've worked with jean several times over the years, and she does great work. I'm looking forward to being interviewed by her. I encourage you to join us this coming Tuesday, January 10, at 7 PM CST (8 PM EST) for our LIVE interview.
Finally, I'd like to share some fascinating stats with you:
In 1979 students in the Harvard MBA program were asked, "Have you set clear, written goals for your future and made plans to accomplish them?" Only three percent of the graduates had written goals and plans; 13 percent had goals, but they were not in writing; and a whopping 84 percent had no specific goals or a plan at all.
Ten years later, the members of the class were interviewed again, and the findings were astonishing. The 13 percent of the class who had goals were earning, on average, twice as much as the 84 percent who had no goals at all. And what about the three percent who had clear, written goals and a plan? They were earning, on average, ten times as much as the other 97 percent put together!
I'm sharing this with you because my good friends and colleagues, Jan H. Stringer and Alan Hickman, Co-authors of BEE-ing Attraction, have a program to help start the new year off right. It's called 2012 Attraction Planning For Business and Personal Relationship Success.
Alan is one of the most positive and upbeat people I know. Every time I speak with him he's overflowing with enthusiasm and joy. If you would like to work with him and Jan to get your new year started off right, click the link below to check out this new program which costs only $20.12.
CLICK HERE for 2012 Attraction Planning For Business and Personal Relationship Success
Lots of love and blessings to you!
DavidPaul and Candace Doyle