I've been teaching the Voice for Love's 5 Steps to Hearing God's Voice process in Italy for over four years now. At present there are about 200 people who are receiving beautiful messages from God's Voice. This number is continuing to grow as with new workshops more and more people are learning to hear God's Voice. I recently also held a workshop in Lugano in Switzerland.
Throughout the year we meet in small groups to practice and go deeper into this wonderful experience, and two or three times a year we all get together to celebrate, connect and join with each other. This is mainly because one of the participants in a workshop received a very specific message to "stay together and keep in contact"! At times we have a guest speaker or a guest musician or singer, and other times we simply join, laugh, sing and have fun together.
We recently had our tenth Voice for Love meeting and our guest speaker was Isabella Popani. Isabella is very well-known in Italy for translating A Course In Miracles into Italian and she currently holds seminars and courses in this regard. She also represents Scotland's Findhorn spiritual community in Italy and every year takes groups to this renowned spiritual center.
Findhorn was founded approximately 50 years ago by Eileen and Peter Caddy together with their secretary Dorothy McLean. Eileen was guided by her inner Voice, which she calls "God's Voice within," to this remote part of Scotland where she and Peter along with three of her children and Dorothy initially all lived together in a small caravan (mobile home). As they were all without jobs, in order to survive they were guided to plant a small vegetable garden. They carefully followed the instructions given to Dorothy who was in contact with the Spirits of Nature, and thus did the vegetables, flowers and plants flourish abundantly in this arid place where normally nothing could grow.
By constantly following the instructions that God's Voice patiently and lovingly conveyed to Eileen, a spiritual community was founded at Findhorn which is known throughout the world. In our recent Voice for Love meeting through guest speaker Isabella Popani, we were able to experience a part of Findhorn. We danced and did some exercises of the Transformation Game, which was both extremely enjoyable and instructive, and all had a wonderful time together.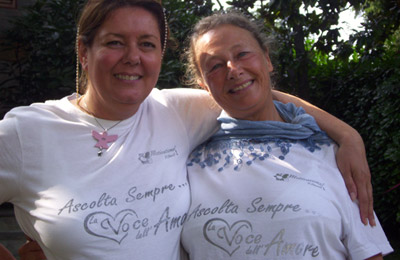 For the occasion, Giò, who is part of our Voice for Love community, presented her Voice for Love t-shirts with the words, "Always listen to … the Voice for Love" (available in both Italian and English). If you are interested in buying a Voice for Love t-shirt, please contact Giò at mariagioval@libero.it.
Last but not least, we're all so excited because DavidPaul and Candace Doyle's book The Voice for Love is being translated into Italian and should be available before Christmas. Quite a few people have already pre-ordered the book and I'm convinced that this will help bring more and more people to the desire to hear God's Voice within for themselves.
A loving hug and God bless you all,
Patricia Williams
Certified teacher and Spiritual Counselor of the Voice for Love