This past week, my wife, Candace, went away to the beach with some girlfriends, so it was just my daughter, Hannah, and I from Thursday to Sunday. When I woke up on Friday morning, Hannah had left me two notes to read and a mask that she created in her art class. I love the way my daughter shares from her heart. The notes were very touching. As I looked around our kitchen, I saw all of the beautiful artwork and inspirational messages that she's been slowly posting around our kitchen walls for the past few months. The messages are really beautiful, and I wanted to share them with you. So this past Sunday, we took pictures of her artwork, typed them up,
and posted a blog post from her with all of the messages and pictures included.
Please click the link below to take a look at all of her beautiful and inspiring messages and pictures. Please feel free to share your thoughts and feelings in the comments section at the bottom of her blog post. I know she would enjoy hearing how her words touched your heart. They certainly touched mine.
Click Here to see her artwork and inspiring messages. She is 11 years old.
Below are the two letters that she shared with me. Apparently, she wrote both of these letters in her art class after feeling frustrated at not being able to re-create the pictures of the art that she sees in her mind. She said she shared these with her art teacher. I have transcribed the text below the pictures in case you can't read them. In the first letter, she expresses her pain. In the second letter, she shares her healing.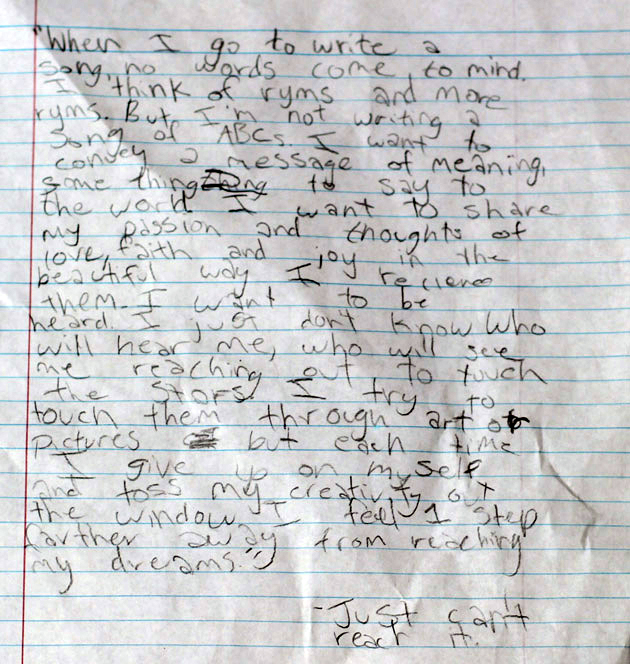 Letter 1: When I go to write a song, no words come to mind. I think of rhymes and more rhymes, but I'm not writing a song of ABC's. I want to convey a message of meaning, something to say to the world. I want to share my passion and thoughts of love, faith, joy the beautiful way I receive them. I want to be heard. I just don't know who will hear me, who will see me reaching out to touch the stars. I try to touch them through art or pictures, but each time I give up on myself and toss my creativity out the window. I feel one step farther away from reaching my dreams. Just can't reach it.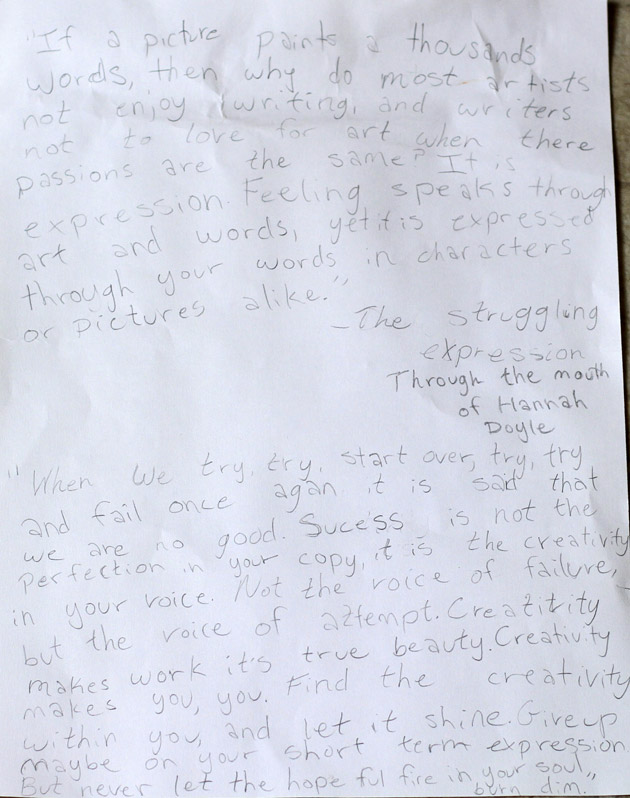 Letter 2: If a picture paints 1000 words, then why do most artists not enjoy writing, and writers not to love for art when their passions are the same? It is expression. Feeling speaks through art and words, yet it is expressed through your words and characters are pictures of like… The struggling expression through the mouth of Hannah Doyle.
When we try, try, start over, try, try, and fail once again, it is said that we are no good. Success is not the perfection in your copy, it is the creativity in your voice. Not the voice of failure, but the voice of attempt. Creativity makes work its true beauty. Creativity makes you, you. Find the creativity within you, and let it shine. Give up maybe on your short term expression, but never let the hopeful fire in your soul burn dim.