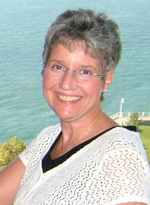 I wanted to share this beautiful sermon with you from Rev. Karen Stemmler, who lives in Ontario Canada. Karen graduated from our Voice for Love Certification and Teachers program two years ago. She is a Certified Voice for Love Teacher and Spiritual Counselor, as well as a Voice for Love Ordained Minister. Recently, Karen was asked to deliver the Sunday sermon at two local Lutheran churches in her area. She sent me a copy of her sermon, and I loved it so much I wanted to share it with you. Here it is … I hope you enjoy it!
"Hello – Let us start today's sermon time with a prayer. "Gracious God – bless now the words of my lips and the meditations of our hearts. Breath your Spirit into us and grant that we may hear, and in hearing be led in the way you want us to go. Amen.
This Sunday is Holy Trinity Sunday – the first Sunday after Pentecost. It's a time of year that Popes and Bishops, Councils and Preachers have, for many years thought it good and wise to remind the millions of seekers – the millions of faithful – that God can be understood in three ways:
As the Father – the Creator, our Eternal nature of Love, indivisible Oneness as the Son – God's creation, Love's extension and as the Holy Spirit – Love's communication, Comforter, bridge to God.
Martin Luther King pointed out that the word 'trinity' can not be found in the bible, but these three aspects of God are written about in the Holy Scriptures to describe God and we can trust in these words. The trinity is a belief born out of the experience of ordinary Christians as a real life answer to the question, "Where do we find God?"
It is an answer that we believe God has given us — God has made God's self know to us in three unique ways that there is only one God who is Father, Son and Holy Spirit. Last week the readings were about the Holy Spirit.
In Acts 2:17 we are told "God declares that I will pour out my Spirit upon all flesh." This clearly states that Spirit is everyone's inheritance, not just for a chosen few.
We also heard in John 14:10 "it is the Father who dwells in me that does His works" This is implying 'I of myself need do nothing, but rather step aside and yield to His Voice and let Him do the work for me.'
Jesus says to Philip here in John "Do you not believe that I am in the Father and the Father is in me? The words that I say to you I do not speak on my own" Have you ever been speaking to someone and it felt like there was more going on than the words being spoken?…like you looked at the communication that had taken place you think 'Did I say that?!?' You realize that somehow something great had just been shared. That's the Holy Spirit speaking through you.
In John 14:12 &13 Jesus says "…because I am going to the Father, I will do whatever you ask in my name, so that the Father may be glorified in the Son. If in my name you ask me for anything, I will do it." This clearly is saying, 'If you ask for God, you get God'. He hears everything and is there willing to meet every call.
For me, on my spiritual journey, I have come to learn of the importance of communicating with God and listening for the answers. It has become important for me to realize all of the ways that Holy Spirit communicates. I have a friend who talked to God as a child and heard answers back. She actually didn't realise it was God's voice she was hearing until she was a teenager and someone took her to church and the topic of the sermon was the Holy Spirit. She had been raised in a family that didn't talk about God or go to church.
When I asked her what did God say to you back then, she replied that she talked to God about everything like a child would to a parent and would always hear words of comfort and Love in return. She now has dedicated her life to helping people realize this Voice for God within them.
Many of you sitting here are probably like my friend who from a young child were talking to and receiving answers from God, but for me I learned how to pray as a child, I noticed God in my heart and in things in the world yet I must say I didn't really know what the Voice for God sounded like in me until I was an adult.
This book, 'When God Spoke To Me' just came out this past March and was sold out in Amazon.com in it's first week It is a compillation of short stories, like 'Chicken Soup for the Soul' of everyday people like you and I hearing the Voice of the Holy Spirit in everyday life.
The importance of sharing this with you is that we are told in the Scriptures in Proverbs 8:1 "Wisdom Calls for a hearing. Listen as wisdom calls out! Hear as understanding raises her Voice."
God's Voice is always the Voice for Love. In my mind, when I choose to notice when my thoughts and beliefs are 'easing God out' of the moment and choose to hear Holy Spirit instead…here is where my joy lies…and therefore the joy of everyone. The Holy Spirit knows our collective highest good. I can't possibly know from my frame of reference what's best for you, but Holy Spirit does. I can trust in every moment that my Guide is there ready and willing to help in every situation.
Have you ever been talking to someone and you hear a story of how an illness has come along in someone's life has turned turned their world upside down? When I notice my mind turning upside down to worry or hoplessness or fear or some other flavour of lack in the moment, I'm much quicker now to give it over…to say 'Holy Spirit, I'm feeling off, I ask you to take this cup, this call's for you, help me see this differently" and I give it over. Just like when a telemarketer calls and I answer the phone and they ask for the man of the household I don't have to take the call, I can pass over the phone to my husband, this one's not for me, so I don't take it. Well Jesus has taken ALL of our burdens. and we can remember to give all our burdens to him and ask for His answer instead.
Give the gap of silence, for listening to God's answer.
Sometimes we'll be prompted to do nothing, sometimes it's to do something or say something, or pray or listen or take action…but I know and trust that Holy Spirit's answer will be the highest and best for all and I really do want His answer because I know it brings peace and joy with it for the whole Sonship.
There is One God who is Loving, who knows all things, is all Powerful, Holy, Forgiving, Life Itself. Wouldn't I rather trust this Voice than my limited little self that knows of the past and projects into the future. This little voice jumps back and forth like a monkey in the tree tops between what it has known in the past and what it thinks it knows will happen in the future. When I notice my mind entertained in this thought system, I call on God, because I realize I have momentarily stepped out of grace here now to entertain some little story, often it's of some lack of some sort.
God's omniscience is here now, not at some future time and not in dredging over the past. God is a shared event, whether in awareness or not, God goes with us wherever we go. We can experience God's peace and glory amidst stories of limitation by letting Him be in charge of every moment.
We are reminded of this in Proverbs 8:30&31, where Solomon says"I was beside him, like a master workman;. I was his constant delight, rejoicing before him always. And how happy I was with the world he created: how I rejoiced with the human family!"
We are no different you and I, Jesus has shown us the way. We all have this deep yearning to rejoice, to be happy, to be free, to know God and all God created, to be a messenger of peace and goodwill among men.
Any time I'm not noticing the Lord's majesty that fills all the earth, it's a call for Love…a call to talk to God, to ask Him to reveal what I have put in this moment to take my thoughts from Him and His glory. All I can do is work with my own perceptions that are coming up in the moment.
I brought with me today my tuning fork. It resonates at the perfect sine wave. It is called A440. It is the purest sound for it does not change. It will have the same sound on a mountain top as it does on the bottom of the sea. To hear it, you strike it against something. Do you hear it?
Here I'll put it close to the mic. Do you hear it?
Now I will let it touch something else. Did you notice? The sound got louder?
This is what happens within us, the sound of God, our true nature "gets louder" or more recognizable when we call on God's Love for answers. We can relate to another in love, our purest sense and experience that field where we can touch each other and see, hear, feel, or behold the presence of God no matter where we are or what we do.
It's our journey to behold God and only God, through God and in God. the promise to say the Truth and only the Truth so help you God, is this place of holiness where we behold what is in front of us with the grace of God. This is where we behold the Christ.
Calling God's presence into awareness amidst a hardship or discomfort is automatically giving willingness to see it differently. In a mind that has loosened it's grip on what the senses would tell it, the Holy Spirit can answer for us in the wholeness, the holiness of the present moment.
'Knock, and the door shall be opened unto you…seek and ye shall find"
The door I'm referring to here is the door in our minds. As we watch the thoughts that stream by, the automatic thoughts, and we press the pause button, like on a tape recorder or boom box, just the word 'God' can still the mind enough to let in a glimmer of peace.
The peace that passeth understanding is what I'm talking about here, the peace that overcomes you when you're not looking for it.
Our little minds wiggle, like the waves on this tuning fork and can join in the remembrance of the Truth here now in this shared joy of the remembrance of our true Source. We hear Love with a capital 'L' be revealed in the moment; this is where the door to accepting our infinite inheritance exists.
I'd like to read a parable from Eckhart Tolle's "Power of Now" p.1 "A beggar had been sitting by the side of a road for over thirty years. One day a stranger walked by. "Spare some change?" mumbled the beggar, mechanically holding out his old hat. "I have nothing to give you," said the stranger. Then he asked: "What's that you are sitting on?" "Nothing," replied the beggar. "Just an old box. I have been sitting on it for as long as I can remember." "Ever looked inside?" asked the stranger. "No," said the beggar. "What's the point? There's nothing in there." "Have a look inside," insisted the stranger. The beggar managed to pry open the lid. With astonishment, disbelief, and elation, he saw that the box was filled with gold.
The stranger in the story represents Jesus who is telling us to look inside. Not inside any box, as in the parable, but somewhere even closer: inside ourself. "But I am not a beggar," one can say. When we're not knowing our true wealth, which is the radiant joy of of Being and the deep unshakable peace that comes with it, we are beggars, even if we have great material wealth. We have been looking outside for scraps of pleasure or fulfillment, for validation, security, and love, while we have a treasure within that not only includes all those things but is infinitly greater than anything the world can offer.
We are all sitting on, ALL THE TIME, our Divine inheritance. In every moment we can choose the Love of God. Thanks be to God
Let us pray.
Heavenly Father, thank You that we can call you Father. Thank You for sending Your Spirit into our hearts. May each one of us know that we are One in Your Sonship and loved with an everlasting Love. May we all live in your Love, Generous Father, Gracious Son and Powerful Spirit. Now and always, Amen."